Welcome to Quinta Beira-Mar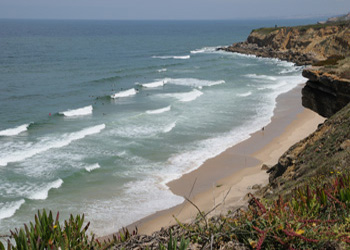 The Quinta is situated on the Sintra Coast, above a stunning beach, with views of the sea and the Sintra mountains with the magical Pena Palace. The area is within a UNESCO world heritage natural park.
Ideally situated twenty minutes from Sintra and forty five minutes from Lisbon, Quinta Beira-Mar offers a farm stay 'bed and breakfast' for a perfect holiday venue, ideal for walking, surfing, beach-life and exploring the beautiful villages and cultural, historic palaces and castles here. Praia Pequena beach is 2 minutes walk from the Quinta and Praia Grande, a world renowned surfing beach is 12 minutes walk.
Praia Pequena - 2 minutes walk from the Quinta
Please contact us at any time.
We look forward to meeting you,
Susanna Cole